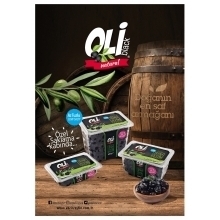 Our commercial life starting from Bursa Gemlik in a small corporation by producing olive and pickle with traditional methods in 1975 has developed itself with improving market conditions and customer demands, and in he following years started producing only gemlik type black olive and as a result growing production capacity of our company we needed more and more raw material. In accordance with innovation, quality and hygen demads of new age and in the light of our research and development studies, we moved to our new and modern company in Manisa, Akhisar that is located on 8,000 m2 area with 2,000 m2 closed area with 700 thousand kgs black olive storage and daily 10,000 pieces packaged olive production capacity and as a result of increasing production capacity
We are constantly renewing ourselves with the demands and suggestions from our valued customers and we continue to work on new projects to offer you better and more beautiful.
With thanks and respect.